It's March Madness season!
No, I am not really talking about the best playoff format in all sports (college basketball tournament). I am talking about the late-season NBA. So much injury news lately and value plays opening up because of rest and/or coaches on losing teams wanting to see what they have in their young players. Then there are coaches who are likely protecting their studs from playing so many minutes down the stretch to "tank" or to preserve them for next season.
It's been a mess of late and probably not going to get better as the season wraps up. Friday night was one of the weirdest nights in NBA DFS. Scores were super low, and I am still tilted over Charlotte's blowout of Orlando. IF that game stays even somewhat close into the fourth quarter, I would've easily had my best night in NBA ever.
But that's the way it go and like Josh Howard once said, sometimes you don't know what the ball do.
So we press on, full-court style, and hope to drop some dimes into our bank account.
Tonight we have a truly ugly NBA slate. Seriously, it's god awful, in my opinion.
But it's 8 games and those of us that absolutely love DFS will play anyway.
Today is a Monday, so today's picks fall into the premium content category on our site. With that said, you will still get a taste of the 5 players i like for tonight, but not all. You can continue the article by signing up for our premium content or signing up for a 7-day free trial and take us for a test drive.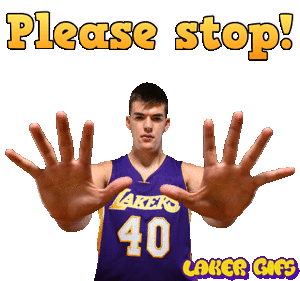 Ivica Zubac – C – Los Angeles Lakers – $3,900
Analysis: So without much dedication into research, the above .gif was literally the only Lakers' .gif I could find with Zubac. With that said, I think he's one of the better value plays on the board, assuming Luke Walton continues to start him and wants to see what he has to offer the future of the franchise. Zubac has played about 20 minutes in each of his last 3 games. While we all would prefer 25-30-plus minutes, I think he still has the potential to pay off salary today against the Nuggets. In two appearances against Denver, Zubac is averaging 23 minutes and 31 fantasy points. The Nuggets allow 49.8 fantasy points per game to centers, which is about middle of the pack in the league. Zubac's size will be needed to contend with Nikola the Great on the Denver side. This is a back-to-back for the Lakers and it's said to be the toughest back-to-back of all B2Bs – going into Denver with the altitude. I am not worried here though, Zubac is young, fresh and plays about 20 minutes. He should be good to go.
Analysis: We don't know Kawhi Leonard's status this early into the day, but we do know that Tony Parker is out and unfortunately, a serious health concern will keep LaMarcus Aldridge out for awhile. DeJounte Murray is out as well, so that leaves Patty Mills to man the point tonight against the Atlanta Hawks, one of the worst offenders of fantasy points allowed to opposing point guards. Atlanta is 8th worst in the league in fantasy points allowed to the PG position, surrendering 52.2 points per game. I see Mills as the top value play on the board at the moment.
Analysis: Shooting guard is atrocious tonight. By default, I am just going the safe route and playing Batum. The only concern here is the lack of effort the Bulls will display tonight. But really, that's OK because Batum should be one of  the main beneficiaries of said blowout should it come to that. If not? Then even better. In two meetings with Chicago, Batum has averaged 46.1 fantasy points per game and should draw the defense of Dwayne Wade on the offensive end. Batum is one of the steadiest fantasy plays you could want with his ability to score, rebound, assist, steal and block shots. He's a five-tool fantasy stud.
Analysis: No Derrick Favors and Rudy Gobert and George Hill have some difficult matchups ahead of them for tonight's bout with the Clippers. The one bright spot for offensive production from teams against the Clips is at the Small Forward position. The Clippers are 8th worst in the league in fantasy points allowed, giving up 44.1 FPPG to the SF position. Hayward is coming off of a weird game where he played limited minutes. He played poorly in his lone meeting with the Clippers this season, but i am not too worried. Hayward will see the usage and, like Batum, can fill up the stat sheets in all areas. This will be a low-ownership play for tournaments with some solid potential for cash games.
Analysis: What else are the Kings going to do but play WCS? The guard situation is a roulette wheel and WCS has seen his minutes grow exponentially since the Boogie Cousins trade. Cauley-Stein has a great matchup here against the Orlando Magic, as they are allowing 46.3 fantasy points per game to power forwards this season and have allowed 51.3 FPPG in their last five. At 30+ minutes and a premium matchup, WCS should have no trouble paying off 5x his salary tonight. He's no Boogie, but WCS should be actively involved on both ends of the floor.