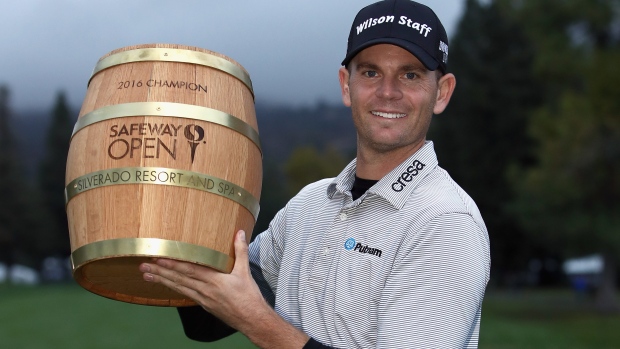 *****OPTIMAL LINEUP*****
Brendan Steele $9000 – 118.0
Chesson Hadley $8100 – 112.5
Tyler Duncan $7300 – 109.5
Phil Mickelson $11000 – 107.0
Graham DeLaet $7500 – 91.0
Grayson Murray $7100 – 83.0
---
*****EXPERT CONSENSUS*****
Highly Touted
B – Kevin Na $9400 – 75.0%
A+ – Brendan Steele $9000 – 58.3%
C – Jamie Lovemark $8700 – 58.3%
A+ – Tony Finau $11500 – 58.3%
Recommended
B – Luke List $7900 – 50.0%
A – Grayson Murray $7100 – 41.7%
F – Keegan Bradley $9300 – 41.7%
B – Ollie Schniederjans $8300 – 41.7%
F – Peter Uihlein $8800 – 41.7%
B – Chez Reavie $8900 – 33.3%
A – Graham DeLaet $7500 – 33.3%
D – Sung Kang $6900 – 33.3%
Suggested
B – Bill Haas $9900 – 25.0%
A – Bud Cauley $8400 – 25.0%
B – Emiliano Grillo $8500 – 25.0%
C – Harold Varner $8000 – 25.0%
F – Mackenzie Hughes $7600 – 25.0%
D – Martin Flores $7600 – 25.0%
A – Martin Laird $8600 – 25.0%
F – Matt Every $6700 – 25.0%
C – Richy Werenski $7300 – 25.0%
B – Ryan Moore $9700 – 25.0%
F – Sam Saunders $7800 – 25.0%
C – Zach Johnson $10500 – 25.0%
---
*****TOP HONORS*****
A fair amount of Fs, but four A+ grades along with two other As to round it out propel him to Top Honors this week.
Drew Phelps – fantasyalarm.com
A+ – Brendan Steele
A+ – Chesson Hadley
A+ – Phil Mickelson
A+ – Tony Finau
A – Bud Cauley
A – Martin Laird
B – Bronson Burgoon
B – Kevin Na
B – Ollie Schniederjans
C – Jamie Lovemark
C – Richy Werenski
F – Denny McCarthy
F – Mackenzie Hughes
F – Matt Every
F – Rob Oppenheim
F – Rory Sabbatini
F – Sam Saunders
---
*****EXPERT GRADES*****
Grades are the result of a three step process.
First, the field is sorted by raw points achieved and assigned a grade 0-5, with 5 being best.  Roughly the top 3-4% receive 5 points, the next 13-15% receive 4 points, the next 13-15% receive 3 points, and so on.  In weeks with a cut, almost all MCs receive 0 points.
Next, we follow the same method described above, but we replace raw points with salary ($) / fantasy points (pts).
Finally, we weight the two results (2x raw points grade + value grade / 3) and assign a traditional letter grade.
dailyfantasyinsider.com
A+ – Brendan Steele
B – Kevin Na
---
Chris Durell – dailyfantasysportsrankings.com
A+ – Brendan Steele
A+ – Tony Finau
B – Kevin Na
B – Luke List
C – Harold Varner
C – Jamie Lovemark
---
epattersonfs – dfsondemand.com
A – Graham DeLaet
B – Bronson Burgoon
B – Kevin Na
B – Ollie Schniederjans
F – Peter Uihlein
---
Pat Mayo – DraftKings Playbook
A+ – Tony Finau
A – Graham DeLaet
A – Grayson Murray
A – Martin Laird
B – Ben Martin
B – Kevin Na
B – Luke List
C – Jamie Lovemark
C – Maverick McNealy
C – Patrick Rodgers
F – Matt Every
F – Nate Lashley
F – Peter Uihlein
---
fantasygolfmetrics.com
A+ – Andrew Landry
A+ – Tony Finau
B – Chez Reavie
B – Kevin Na
C – Harold Varner
C – Jamie Lovemark
C – Lucas Glover
C – Richy Werenski
C – Zach Johnson
D – Martin Flores
D – Robert Garrigus
F – Denny McCarthy
F – Keegan Bradley
F – Rob Oppenheim
F – Vaughn Taylor
---
Josh Culp – futureoffantasy.com
A+ – Brendan Steele
A+ – Phil Mickelson
A+ – Tony Finau
A – Bud Cauley
A – Graham DeLaet
A – Martin Laird
B – Bill Haas
B – Chez Reavie
B – Emiliano Grillo
B – Jason Kokrak
B – Kevin Na
B – Luke List
B – Ollie Schniederjans
B – Ryan Moore
C – Jamie Lovemark
C – Lucas Glover
C – Webb Simpson
C – Zach Johnson
D – Sung Kang
F – Harris English
F – J.J. Spaun
F – Keegan Bradley
F – Keith Mitchell
F – Mackenzie Hughes
F – Peter Uihlein
---
Seth Finkelstein – rotoballer.com
B – Bill Haas
B – Ollie Schniederjans
D – John Daly
F – Alex Cejka
F – Keegan Bradley
F – Sam Saunders
F – Sang-Moon Bae
---
stlcardinals84 – rotogrinders.com (Daily Fantasy Foursome)
A+ – Brendan Steele
B – Kevin Na
F – J.J. Spaun
F – Sam Saunders
---
Len Hochberg – rotowire.com
A+ – Brendan Steele
A – Grayson Murray
B – Ben Martin
B – Bill Haas
B – Chez Reavie
B – Kevin Na
B – Luke List
C – Harold Varner
C – Richy Werenski
C – Zach Johnson
D – Chad Campbell
D – Sung Kang
F – Keegan Bradley
F – Peter Uihlein
F – Sam Ryder
F – Seamus Power
---
Ryan Baroff – scout.com
A+ – Brendan Steele
A+ – Tony Finau
A – Grayson Murray
B – Chez Reavie
B – Emiliano Grillo
B – Kevin Na
B – Luke List
B – Ryan Moore
C – Jamie Lovemark
C – Patrick Rodgers
D – Martin Flores
D – Sung Kang
F – Aaron Wise
F – Mackenzie Hughes
F – Sam Saunders
---
thefantasygolf.com
A+ – Brendan Steele
A – Graham DeLaet
A – Grayson Murray
B – Emiliano Grillo
B – Luke List
B – Ryan Moore
C – Jamie Lovemark
C – Webb Simpson
F – Keegan Bradley
F – Keith Mitchell
---
Geoff Ulrich – thesportsgeek.com
A+ – Tony Finau
A – Bud Cauley
A – Grayson Murray
B – Ollie Schniederjans
D – Martin Flores
D – Sung Kang
F – Aaron Wise
F – Matt Every
F – Peter Uihlein