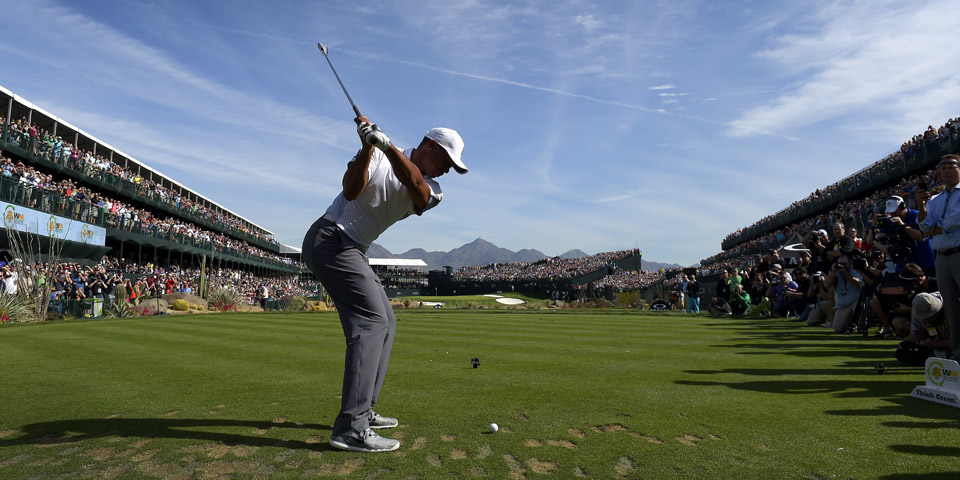 We've made it.  We've finally reached the point where the PGA Tour season is in full swing, and it's time for one of my favorite tournaments of the year: the Waste Management Phoenix Open.  Why do I love it so much?
This.
And this.
And stuff like this.
Hey old guys in charge, golf is supposed to be fun.  More of this please and thank you.
Now, down to business.  The WMPO is played on the Stadium Course at TPC Scottsdale.  It's a 7,261-yard par 71, and if you're in my age bracket, you've probably played it 100 times on EA's Tiger Woods Golf.  It's a course that rewards risk takers, it's home to one of only two par 4 hole-in-ones in PGA Tour history, and players that can handle the party-like atmosphere should thrive.
2015 Waste Management Phoenix Open
1. Brooks Koepka -15
T-2. Bubba Watson -14
T-2. Ryan Palmer -14
T-2. Hideki Matsuyama -14
T-5. Martin Laird -12
T-5. Jon Rahm -12
T-7. Freddie Jacobson -11
T-7. Jordan Spieth -11
T-7. Graham DeLaet -11
T-10. Brandt Snedeker -10
T-10. Brian Stuard -10
T-10. Daniel Berger -10
T-10. Robert Streb -10
T-10. Zach Johnson -10
As you can tell from that leaderboard, there are many ways to attack this course.  However, I did notice a few trends that pointed towards success.  First, and above all else, you're going to want to target golfers who are strong tee-to-green.  If you only considered price and SGT2G over a decent sample, I think you could do pretty well for yourself this week.  But why stop there?  Here are a few more stats to consider.
Driving distance helps, but it's not a requirement.
Ball striking is important.  The greens are relatively simple, so you're going to want guys who put themselves in good position to make birdies.
The next logical step is you want golfers who convert those good looks into actual birdies.  Target those who perform well with respect to birdie or better percentage.
Finally, look for golfers who perform well on par 4s, as that tends to correlate well with success at TPC Scottsdale.
PICKS!  PICKS!  PICKS!  PICKS!  PICKS!  PICKS!  PICKS!  PICKS!  PICKS!  PICKS!
Brooks Koepka $11,300 (18-1)
He's back, get hype!  I was worried about his switch to Nike clubs, but he ripped off a T-3 at the TOC.  I am no longer concerned.  He's the defending champion at this event, and the course sets up well for his game.  He's long, he hits a ton of GIR, and he rolls it very well.  Oh how I've missed you in a totally hetero way.
Pros
Defending champion
Absolute monster, checks all the boxes
Cons
LOL, it's Brooks Koepka.  None.  Roster him and enjoy the ride.
Hideki Matsuyama $11,000 (25-1)
Matsuyama has played this event the last two seasons, and he's finished T-4 and T-2.  Is that good?  I think it's good.  You'd like to see a little more in the form department when spending $11k, but the price should keep ownership down, making him an excellent GPP play.
Pros
Elite tee-to-green player
Elite ball striker
Above average length, but excellent all-around driver of the ball
#3 on tour last season in par 4 scoring and birdies
Mediocre putting is less of an issue at this course
Cons
MCs in two of his last three events and fell apart last Friday
Price is just a little on the high side
J.B. Holmes $10,800 (25-1)
I am pretty bullish on Holmes.  He's in excellent form (T-8, T-24, T-6 in last three), and he's had some strong results at this event over the past 10 years (three of his 10 starts have resulted in 114.5 or more DK points).  I think the natural reaction for most players will be to see his price tag and move on, and there might not be anything wrong with that, but I've got an eye towards GPPs.  Holmes has just as much upside as anyone else in the field, and you can save roughly $1,000 in salary by dropping down from Watson or Snedeker to J.B.  Not only that, he should be significantly lower-owned than those two, if you're into that.
Pros
Playing well
Great tee-to-green
Long
Cons
Price
Consistency/reliability (three scores of 114.5 or more and three scores of less than 39.5 in 10 years)
Gary Woodland $9,600 (50-1)
Everything I just wrote about J.B. Holmes applies to Gary Woodland.  He's another long hitter with a mixed bag of results in Scottsdale (high of 113, low of 31.5).  He's also been playing very well with three straight top-23 finishes.  If it weren't for the crazy weather last week, Woodland was well on his way to victory (final round of 82, yikes).  I think he'll shake that off and turn in a solid week.
Pros
Red hot
#1 in SGT2G and #4 in distance for 2015-16
Cons
Had a rough 2014-15, will this level of play continue?
Justin Thomas $9,300 (40-1)
Thomas is one of my favorite plays of the week.  He's flying a bit under the radar, but he has a game made for this course.  He was top-25 on tour last year in SGT2G, distance, ball striking, birdie %, and par 4 birdie %.  Now that he has that first win under his belt, I think we'll see better results out of him on Sundays. I expect him to be right there when it's all said and done.
Pros
Excels in every key area
Solid showing in his WMPO debut last season (-8, T-17)
Potentially low ownership
Cons
Questionable form, finished at the back of the pack at the TOC and MC at Sony
Webb Simpson $9,200 (50-1)
Not only is he coming off back-to-back top-17 finishes, he took last week off and wasn't brutalized by Torrey Pines.  So no visions of 82 in the back of his mind, that has to be a plus.  Webb might be the quintessential great tee-to-green/bad putting player, so of course I'm going to be on him this week.  He's going to miss his share of 6-foot birdies, but he's going to be in that position more often than the rest of the field.  If he putts well, he could win the tournament.
Pros
One of the best ball strikers on tour
Over 1.0 SGT2G both this year and last
Cons
Averages 0.05 strokes over par on par 4s over the last two years
Might be better and cheaper options
Charles Howell III $8,200 (65-1)
Did you know Charles Howell III has posted six consecutive top-17 finishes?  I was vaguely aware that he'd been playing well, but that is a ridiculous level of consistency.  If you're playing cash games, it would be so hard to pass on that form for only $8,200.  And it's not only that… Chucky Three Sticks has made 8/10 cuts at the WMPO and three of his last six starts have resulted in 90+ DK points.  Pretty, pretty, pretty good.
Pros
Model of consistency, excellent recent results
Solid course history, 8/10 cuts made over last 10 years
Above average in every key statistical area for 2015-16
Cons
Can he actually win the tournament?
Si Woo Kim $7,800 (80-1)
His price still isn't high enough.  At +0.973, he's one of the best in SGT2G in the field, and he's at least slightly above average in all the right areas.  He's not the strongest putter, but he's good enough that I expect him to tear up TPC Scottsdale.  Until he moves into $9k territory, you should probably use him every week, regardless of course.
Pros
Six top-25s in his last seven events
Strong all-around game
Fun name
Cons
Not the longest off the tee at only 294 yard average
Birdie rate is a little low
First-timer
Scott Piercy $7,700 (70-1)
Piercy had a nice finish at Sony (T-13), and he was looking good at Torrey Pines until the weekend (where he posted 79-78).  I expect him to shake it off and get right in the desert.  He's 6/7 in cuts made in Scottsdale over the past 10 years and has posted 82 DK points or more five times.  At TPC Scottsdale, you're looking for birdie makers, and Piercy can fill it up with the best of them.  Normally, he's a risky pick, but he has a nice combination of form and course history going for him this week.  I'm in.
Pros
Form
Course history
Nothing in his statistical profile screams "stay away"
Reasonable price
Cons
Not the strongest tee-to-green player, only slightly above average
Jamie Lovemark $7,700 (65-1)
He didn't really burn anyone last week (like Patrick Rodgers), but I think most were hoping for better than T-31.  Some people will probably hop off the bandwagon given the number of attractive alternatives in this price range.  Don't do that.  At this point in his career he's a poor man's Brooks Koepka, and you're getting him at a nice price.
Pros
Length
Birdie maker
Solid tee-to-green numbers
Cons
Shaky ball striking numbers
Can he maintain this level of play?
Daniel Berger $7,600 (80-1)
At some point, using Daniel Berger is going to pay off, and I'm invested.  You look at the numbers, and you come away with the sense that either A) he should be much more successful than he is or B) the stats are lying.  I'm not ready to give up on him yet.
Pros
Well above average in all key areas
One of the longest hitters in the field
Much more talented than his price
Cons
Just never seems to get it done
Emiliano Grillo $7,600 (75-1)
Look at that $7,100 to $7,800 price range…  I don't think you could go wrong with any one of them.  Here's why I like Grillo: despite being as talented as his similarly priced counterparts, he will go significantly under-owned.  That's it.  No, he's not "better" than Finau, Lovemark, Laird, Kaufman, Henley, Kizzire, Lee, etc., but he's probably as likely to win.  All else being equal, give me the lower-owned option.
Pros
Four top-35s in six 2015-16 events including a WIN
#17 on tour in ball striking
Likely to go under-owned
Cons
First-timer
Seems to be boom or bust, more of a GPP play
Harris English $7,500 (80-1)
This is a strange price.  Skipping ahead a little, English makes for an excellent cash game play IMO.  Here's why…  He's played the WMPO four times before, and he's posted scores of 77.5, 77, 101, and 69.5.  He's played six events in 2015-16 and made five cuts with three top-31 finishes.  And the guy was good enough to play for the U.S. Presidents Cup team no more than four months ago.  Harry is playing well: ball striking, making birdies, picking up strokes tee-to-green, etc.  If you're like me, you hate using this guy, but this price is just too good to pass up.
Pros
Price
Solid form
Good course history
Strong all-around profile
And again, price
Cons
The overwhelming sense of shame that washes over you when you click his name on DraftKings
Smylie Kaufman $7,500 (75-1)
This might be the most exploitable price on the board.  Let's run through his 2015-16 results real quick…
8/8 cuts made
Seven top-34 finishes
Four top-15 finishes
One WIN
Yeah, that's a $7,500 golfer…  Why wouldn't you lock Smylie in?
Pros
Bulletproof form
Tournament-winning upside
Phenomenal price
Very good tee-to-green
Good ball striking and birdie making numbers
Cons
William McGirt $7,200 (100-1)
Dirty Dirt McGirt is another play that's more cash than GPP, but you could use him in either format.  I lean more toward using him in cash as I'm not sure the upside is there, but he's been fairly consistent at the WMPO.  He's 4/4 in cuts made and scored 82.5, 88.5, 78.5, and 68 DK points, respectively.  At only $7,200, that seems like a bargain.
Pros
With the exception of his last start, he's been in very good form (4/5 cuts made, three straight top-13 finishes before the CareerBuilder)
Solid and consistent course history
Has been great tee-to-green this season and made his fair share of birdies
Burned so many people last time out, will probably go under-owned
Cons
Not a long-hitter
Not in the same class of similarly priced options
Kenny Powers-style haircut (maybe this should go in the "pro" section?)
Fabian Gomez $7,200 (100-1)
He got the champion's hangover out of his system last week (and actually bounced back nicely, going 76-68).  I am ready to hop back on board.  This is purely a form pick, as he's come out of the gate on fire in 2015-16 (T-6 at TOC, WIN at Sony), and he's been under par in 9/10 of his 2016 rounds.
Pros
Cons
First-timer
Are you getting 2014-15 or 2015-16 Fabian?
FLIERS!  FLIERS!  FLIERS!  FLIERS!  FLIERS!  FLIERS!  FLIERS!  FLIERS!  FLIERS!  FLIERS!

Here are some cheaper plays you can use if you're looking for some salary relief.
Paul Dunne $7,000 (125-1) – T-13 last week

Chris Kirk $6,900 (120-1) – Great price

Keegan Bradley $6,800 (125-1) – Great price

Anirban Lahiri $6,700 (350-1) – Great price

Hudson Swafford $6,700 (125-1) – Feel like a breakout is coming

Harold Varner III $6,600 (150-1) – Swag

Ben Crane $6,500 (150-1) – Back-to-back top-25s, solid course history

Mark Wilson $6,200 (250-1) – Former champion
It's the Waste Management Open, let's get weird.  Good luck this week!
oreo