If you hate Shot Tracker and love watching celebrities hack it around the course, then this is your week.  It's the AT&T Pro-Am from Pebble Beach.  There will be three courses in the rotation Thursday through Saturday (Pebble Beach, Spyglass Hill, and Monterey Peninsula), and the top-60 and ties will finish up Sunday on Pebble Beach.
2015 AT&T Pebble Beach Pro-Am
1. Brandt Snedeker -22
2. Nick Watney -19
3. Charlie Beljan -18
T-4. Dustin Johnson -17
T-4. Jason Day -17
T-4. Pat Perez -17
T-7. Jordan Spieth -16
T-7. Matt Jones -16
T-7. Jim Furyk -16
T-10. Vaughn Taylor -15
T-10. Chesson Hadley -15
T-10. Alex Prugh -15
T-10. J.B. Holmes -15
T-10. Brendon Todd -15
T-10. Daniel Berger -15
T-10. Jon Curran -15
T-10. Andres Gonzales -15
Full Results
It's a unique set of circumstances this week… three courses, slow pace of play, putting up with amateurs, poa annua greens, and maybe the weather.  As such, I'm going to be leaning a little more on course history, form, and general golf skills.  Here is my profile:
Stroke Differential
Strokes Gained: Tee-to-Green
Strokes Gained: Putting
Driving Distance
GIR
Ball Striking
Birdie or Better %
Scrambling
Proximity from 100-125 Yards
Course History
Form
PICKS!  PICKS!  PICKS!  PICKS!  PICKS!  PICKS!  PICKS!  PICKS!  PICKS!  PICKS!
Jordan Spieth $12,300 (4.5-1)
Spieth is the best golfer in the field, and he has some solid course history (80.0, 97.5, 105.5 FP in three AT&T starts).  He's strong tee-to-green, #3 on tour in strokes gained: putting on poa annua greens since 2013-14, and an excellent scrambler.  The only real concern is fatigue, as he's been quite the globe trotter of late.
Pros
#1 golfer in the world
Checks all the boxes
Strong course history
Playing well
Cons
Potential fatigue
Sure to be highly owned
Dustin Johnson $11,400 (10-1)
This is course (well, courses I guess).  He should've won the 2010 U.S. Open at Pebble Beach, and he's scored over 100 FP in four of his last six AT&T starts (only one MC in eight tries at this event).  It's not hard to see why he thrives here: elite distance, excellent tee-to-green, and happens to be #1 on tour in strokes gained: putting on poa annua greens since 2013-14.  In the intangible department, DJ's celebrity playing partner is his father-in-law, Wayne Gretzky.  That is surely preferable to a random, awkward CEO with a 20 handicap.
Pros
Fantastic course history
Excellent statistical profile
Solid form
Familiar playing partner
Might go a little under-owned
Cons
It's DJ, anything can happen
Jimmy Walker $10,700 (18-1)
Walker's going to be wildly popular, as he offers a perfect storm of form and course history.  For all of the hate he's been getting, Walker hasn't finished lower than 13th in a tournament since December (T-8, T-10, T-13, T-4).  And he's scored 80 or more FP in every AT&T start since 2011 (top end scores of 117.0 and 108.5 FP in 2013 and 2014, respectively).  He's basically Dustin Johnson lite: distance, tee-to-green, and poa annua performance.  I prefer DJ, but you probably can't go wrong with Walker.
Pros
Form
Course history
Profile
Cons
Do you trust him?  I mean really trust him?
Phil Mickelson $10,300 (22-1)
Phil is off to a phenomenal start in 2016.  He has a T-3 and T-11 in three events (one flukey MC mixed in), and he's #6 on tour in strokes gained: tee-to-green.  The only area I'm targeting where he falls below average this season is GIR, but he makes up for that with an excellent scrambling percentage.  Despite great overall course history in the last 10 years (80.7 FP per start, only one MC), he's been trending the wrong way of late (61.5, 68.0, DNP last three years).  I think he bounces back at Pebble and turns in an old school Phil week.
Pros
Great form, seems rejuvenated
Tournament-winning upside
Creativity plays well here
Cons
Only one score over 85 FP at AT&T since 2007
J.B. Holmes $9,800 (28-1)
This is probably a GPP-only play.  Holmes has been extremely boom or bust at AT&T over the last nine years (five scores of 58.5 or lower, three scores of 90 or better).  Those five lackluster starts will scare off some of the course history guys, but not us.  He has top-end upside, and that's the point.  In terms of form…  If we throw out his week at the Tournament of Champions, Holmes has three straight top-8 finishes (everyone has a bad week now and again, right?).  He's one of the longest hitters in the field (316.8) and has been fantastic from 100-125 of late (#11 on tour), that's a recipe for success.  One more tidbit, Holmes is a traditionally mediocre putter, but he's been very good on poa annua greens over the past three years; coming in at #10 on tour.
Pros
Length off the tee
Form
Poa annua putting performance
Cons
Price is a little too high
Consistency
Patrick Reed $9,600 (30-1)
Much has been made of Spieth's course history this week, but Patrick Reed is right there with him at nearly $3,000 less (Spieth 94.3 FPP v. Reed 85.7 FPP, both in three career starts).  We're also only two weeks removed from Patrick Reed being the hottest golfer on the planet.  It's unlikely he fell out of form so abruptly; it's much more probable he just ran into some courses that didn't suit his strengths.  In any event, I'm ready to hop back on.  The three courses in the rotation are relatively short, and many players will be clubbing down off the tee.  I expect Reed to find a lot of fairways and frequently have around 125 yards coming in.  He's one of the most accurate players on tour with a wedge in his hands (not to mention a phenomenal scrambler), and as such, he should thrive this week.
Pros
Course history
Wedge play / scrambling
Strong tee-to-green game
Took last week off
Cons
Back-to-back lackluster performances (WD: "wasn't feeling it" last time out)
Can he keep his improved ball striking up?
Shane Lowry $8,900 (40-1)
The trendiest DFS pick.  If you want to act like you know what you're doing, tell everyone you're all-in on Lowry this week.  Everyone on Twitter will be impressed.  Even if it's not nearly as sneaky as some people would have you believe, it's still a great pick.  Lowry is a great golfer with a severely lacking sample of statistics (thanks Euro Tour, enter the year 2016 when you get a chance).  Numbers driven players might overlook him, and that's good for us.  Also, he has a nice combination of form and course history working (T-13 at Farmers, T-6 at Waste Management, and T-21 at AT&T last season).
Pros
Solid tee-to-green
Nice mix of form and course history
Lack of statistics may keep ownership down
Cons
Price is a little high
If you tout him too hard, you're "that guy"
Bill Haas $8,200 (65-1)
I really wish Charles Howell III was playing this week, as he's become THE cash game staple.  With no CHIII on the board, I'm going to have to go slumming with Haas.  He's a solid cut-maker with decent numbers and no real weaknesses.  Haas has almost no history at this event (MC in lone 2006 start), so that's less than ideal, but his price is nice at only $8,200.  Maybe I'm falling into the name brand trap, but I'm much more comfortable using Haas at $8,200 than most of the relatively similar but cheaper options.  Ringing endorsement, I know, but if you're looking for safe(ish) filler in the $8k range, I'd go with Haas or Lingmerth.  Pick your favorite.
Pros
Price
Two top-10s in last four events
Solid all-around game
Cons
Poor / non-existent course history
MC at Farmers (also poa annua course)
James Hahn $7,500 (100-1)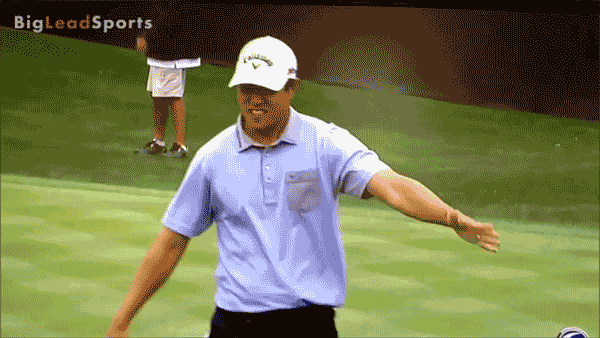 I was tempted to only post the gif, but I'll give you a little more in case that didn't suffice.
Three starts at Pebble have resulted in 106, 35, and 88 FP for Hahn.  He was great (well let's say good) in Scottsdale last week, and he likes these west coast tournaments (won at Northern Trust last season).  His statistical profile is just okay, but I'm focusing more on his price, course history, and form.
Pros
Course history
In relatively good form
West coast guy
Gangnam Style
Cons
Almost assuredly will be over-owned with respect to probable performance
Most likely to pull a Smylie
Will Wilcox $7,500 (100-1)
He's back, and I'm in.  You're in, too?  Well I'm in further.  He's been trending in the right direction for three weeks now, and he put it all together on Sunday at Waste Management posting the low round of 65.  He's been refreshingly honest when it comes to the state of his game on Twitter, and he has this to say about his chances at AT&T:
Alright DFS.. Told yall not to send last week an i yuell'd.. My bad. Im a superstitious guy. So dont send ?

— Will Wilcox (@willwilcoxgolf) February 9, 2016
ALL SYSTEMS GO.
Pros
Excellent all-around game
T-6 last week at WMPO
T-18 last year at AT&T
You'll feel good about yourself if you play him
Cons
Si Woo Kim $7,400 (100-1)
This is a recurring thing, but his price still hasn't come up.  Until it does, you can use him every week.  His talent very much outpaces his price, and you can throw out his 2013 start (he was 17).
Pros
Cons
Kind of sputtered through the finish line last week, might be a sign of fatigue
Jhonattan Vegas $7,200 (175-1)
Let's get crazy.  You get three rounds for sure this week (Saturday cut), so feel free to take some chances.  Vegas is long and tends to be very streaky.  If he can get hot, he could blow his salary out of the water.
Pros
Length / eagle rate
T-18 at Farmers
Stats look good for 2015-16
Cons
First-timer
Stats look bad for 2014-15
Robert Garrigus $6,800 (250-1)
He's played this event nine times in the last 10 years, and he's scored 65 FP or more six times (scored 50 or more in 8/9).  In a week where A) you want to load up on high-priced talent and B) a MC won't kill you, it's the perfect spot to use someone like Garrigus who is long, decent from 125, and makes a lot of eagles.
Pros
Solid course history given his price
Length / eagle rate
Decent from key yardage
Relatively safe (3/3 in 2016 cuts made)
Cons
Decent 2015-16 profile, but bad 2014-15 profile
Spencer Levin $6,600 (250-1)
Everyone in this range is going to come with a few warts.  So I'm going to focus on why you should consider Levin rather than focus on the reasons to pass.  I like his course history.  He's 4/6 in cuts made at AT&T and even posted a score of 100 in 2011.  Also, his 2015-16 numbers actually look okay despite some lackluster results.
Pros
Solid ball striker
Decent 2015-16 numbers
Three of his six AT&T starts resulted in 76.5 or more FP (topped out at 100 in 2011)
Cons
Horrible form (three straight MC)
Steven Bowditch $6,400 (250-1)
Price, price, price.  It's rare you'll get the opportunity to roster a golfer as good as Bowditch for only $6,400 in a non-major/WGC.  Let's get it out of the way, his form is awful (three straight 77s), but he did finish T-10 at the TOC in early January.  That won't stop me from using him.  His price is just too good to ignore.
Pros
Price is fantastic
Most talented golfer in this range
#3 scrambler on tour last season
Top-45 from 125 yards last season
Cons
Dawie Van Der Walt $5,700 (400-1)
This is a total flier.  Hop on board if you like or feel free to pass.
Pros
Price allows for maximum roster flexibility
Solid tee-to-green and from 125 yards
Cons
Only 4/8 cuts made in 2015-16
Probably can't win
Good luck this week!
oreo