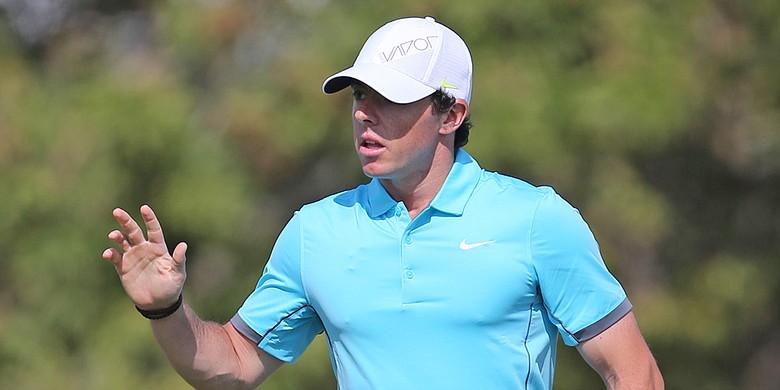 Welcome to the Matt Every Invitational, let's get started.  The API takes place at Bay Hill in Orlando, FL.  It's a 7,419-yard par 72.  Golfers will be frequently clubbing down off the tee but will face relatively long approach shots (similar to last week).
2015 Arnold Palmer Invitational
1. Matt Every -19
2. Henrik Stenson -18
3. Matt Jones -17
4. Morgan Hoffmann -15
5. Ben Martin -14
T-6. Kevin Na -13
T-6. Kiradech Aphibarnrat -13
T-6. Jason Kokrak -13
T-9. Zach Johnson -12
T-9. Louis Oosthuizen -12
Full Results
As you can tell from the list above, a number of different styles can play well at Bay Hill.  That said, these are the stats that tend to correlate with success.
Target Stats
Strokes Gained: Tee-to-Green
Driving Distance
GIR
Birdie or Better %
Scrambling %
Birdie or Better % from 175+ Yards
Are they related to Arnold Palmer?
Is their name Matt Every?
PICKS!  PICKS!  PICKS!  PICKS!  PICKS!  PICKS!  PICKS!  PICKS!  PICKS!  PICKS!
Rory McIlroy $12000 (5-1)
Rory is my favorite play this week.  There are plenty of shiny objects to distract the masses (Scott, Stenson, Day, Rose…), and McIlroy seems close to putting it all together for four rounds.  At a course that used to be dominated by Tiger, I will be taking Tiger Lite.
Adam Scott $11700 (7-1)
At this point, what can you really say about Adam Scott?  He's finished 2nd, 1st, and 1st in his last three events.  His numbers look especially fantastic given the track.  His course history is a little "meh," but that would just be nit-picking.  He's on an NBA Jam level of fire right now.
Henrik Stenson $11100 (12-1)
Stenson has a game that's well-suited for Bay Hill, and it shows with some solid course history.  He'll look to get right after a couple of mediocre (at least by his standards) finishes these past two weeks.  They say golfers tend to peak in their third week…
Justin Rose $10500 (14-1)
If you're looking to save some cash but still want a top-tier golfer, Justin Rose is your man.  Strong tee-to-green game and great from distance.  Has averaged a solid 65.1 DK points per in 7 API starts.
Kevin Kisner $8900 (50-1)
He's solid tee-to-green and fantastic on par 4s.  Doesn't hit it as far as the top-tier options, but he still posts his fair share of birdies from 200+ yards.  Would like him to be a little better from 175-200, but his price offsets any concerns.
Marc Leishman $8500 (50-1)
If you were following along with him at Doral, you know he sank a ton of birdies that week.  Unfortunately, he also posted an inordinate amount of bogeys.  With considerably less trouble in play at Bay Hill, I think he'll cut down on the bogeys and post a much higher finish.  He's above average, relative to the field, in every single key statistic besides GIR (I forgive you for that one, Marc) and elite in terms of par 4 scoring, scrambling, and birdie rate from 200+ yards.  Along with Rory and a golfer to be named later (we all know it's Smylie), Leishman is one of my three favorite plays.
Charles Howell III $8000 (60-1)
The bandwagon is sure to be overflowing with hop-ons at this point, but there's a good reason for that.  He's playing well and simply makes cuts at Bay Hill.  Chucky has posted 50 or more DK point in 8 of his last 10 API starts.  Prototypical cash play.
William McGirt $7700 (80-1)
Let's take a quick look at the ol' spreadsheet and see how Dirty Dirt performs in the target areas.
what.
Yeah… a little weak from distance, but everything else looks great.  If his price was a little better, I'd be all-in, but I will still have my fair share of McGirt.
Billy Horschel $7700 (80-1)
The last time I used Billy Ho, he made me look like a fool.  I made him my pick to win, and I even had this fantastic meme ready to go.
Then he missed the cut.
I'm still a little bitter, but I'm willing to move past it (if he is).  He's a Florida Gator with solid course history (66.7 DK points per in 3 starts, 3/3 in cuts made).
Ryan Palmer $7700 (80-1)
Let's just get this out of the way… his course history sucks.  I said it.  You read it.  It's over.  But there's no reason he shouldn't play well here, at least in theory.  He's long, solid tee-to-green, and kills it from distance (one of the best in the field on par 5s and from 175-200 yards).  I think he's more of an $8200 golfer, so you're getting him at a nice price.
David Lingmerth $7600 (85-1)
His statistical profile is a bit hit-or-miss.  I certainly don't make it a habit of targeting $7600 golfers with a 0.119 strokes gained number, but he is strong from 175-200 and above average in a number of other areas.  I'm semi-throwing the numbers out here.  I know he's a good golfer that plays well in Florida.  Like Palmer, he's also better than his price would lead you to believe.
Smylie Kaufman $7300 (150-1)
And now we complete my Bay Hill trinity.  Rory, Leishman, and Smylie.  Those are my guys.  I write about him seemingly every week, so I'll keep it short here.  Good distance, solid tee-to-green, great from 200+ yards, $7300.  I will be using him everywhere.
Martin Laird $7200 (160-1)
Party Marty has averaged just under 66 DK points per start at Bay Hill.  Pretty good, especially considering his price.  I'll be honest, his numbers look a little rough, but I like his combination of play from distance and scrambling.
VALUE PLAYS!  VALUE PLAYS!  VALUE PLAYS!  VALUE PLAYS!  VALUE PLAYS!
Andrew Loupe $6900 (200-1): Masher, playing well this year
Camilo Villegas $6800 (150-1): Florida Gator, decent course history
Kiradech Aphibarnrat $6700 (150-1): T-6 last year (thanks to unsustainable putting), but worth a flier at this price
Patrick Rodgers $6600 (200-1): My favorite "cheap" play, people have probably reached their limit with this guy, perfect opportunity to hop on, great tee-to-green and from distance
Brett Stegmaier $6500 (250-1): Having a solid season and flying under the radar
Robert Streb $6500 (200-1): Definitely worth a flier at this price
Maverick McNealy $6200 (300-1): #2 amateur in the world
Chad Campbell $6000 (300-1): Surprisingly good 0.811 SG:T2G this season, 7/9 in cuts made last 10 years at API (and his two MCs were T-71 and T-74)
Good luck this week!
oreo