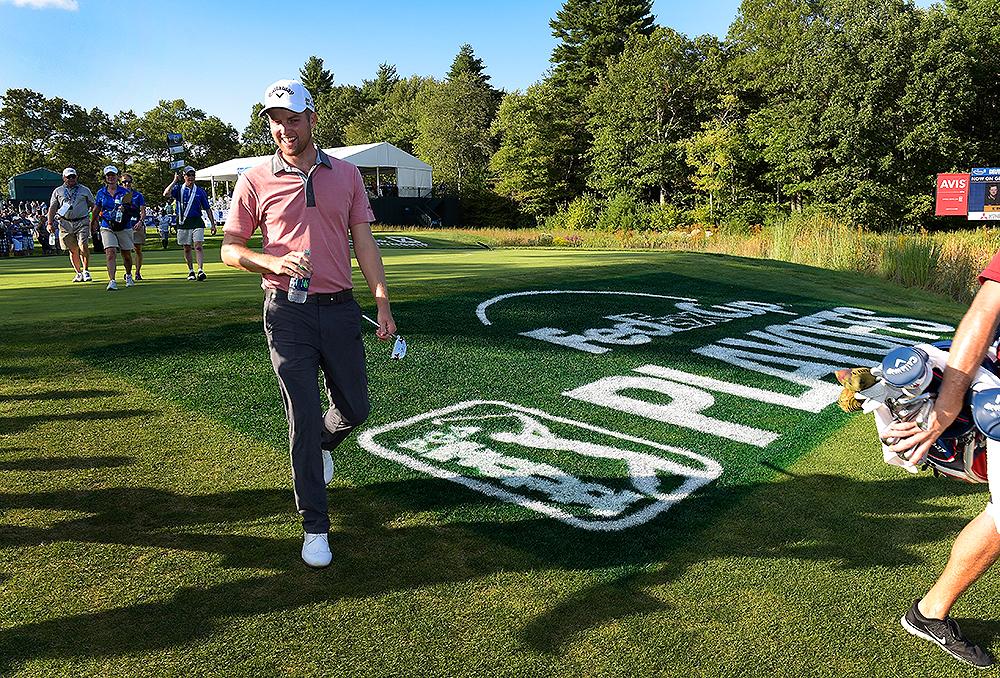 One down, three to go until we crown another FedEx Cup Champion.  This week, we've got the Deutsche Bank Championship coming to us from TPC Boston (take note: it starts Friday, not Thursday).  It's a 7,216-yard par 71 that the Tour routinely chokes into submission.
Past Winners
Chris Kirk -15 (2014)
Henrik Stenson -22 (2013)
Rory McIlroy -20 (2012)
Webb Simpson -15 (2011)
Charley Hoffman -22 (2010)
You're going to need to target guys who can go low.  There are 99 players in the field, and the top-70 and ties make the cut.  Look at those winning scores and couple that with number of players who make it through the cut.  There's no reason to play it safe.  You want birdie makers; plain and simple.  If I haven't sold you yet, consider these four holes:
#2) 542-yard par 5: Gave up eight eagles in 2014 and played .139 strokes below par for the week.
#4) 298-yard par 4: Gave up seven (!) eagles in 2014 and played .379 strokes below par for the week.
#7) 600-yard par 5: Only gave up one eagle in 2014, but it played .263 strokes below par for the week.
#18) 530-yard par 5: Gave up thirteen eagles in 2014 and played .337 strokes below par for the week.
The eventual winner is going to tear this group apart.  How much trouble do you think Bubba Watson's going to have on a 298-yard par 4?  You can also throw in the first hole, which is a 365-yard par 4.  It played .121 strokes below par in 2014.  That's five holes (or 28% of the course) where long hitters will be within 50 yards (max) going for eagle.
As you might imagine, strokes gained: tee-to-green, birdie or better percentage, and par 5 scoring will all be important this week.  The experts also like ball striking, scrambling, and strokes gained: putting to help them round out their selections.  You can find the field leaders in each of those categories below.
1. Bubba Watson 2.061
2. Henrik Stenson 1.795
3. Jordan Spieth 1.606
4. Jim Furyk 1.550
5. Webb Simpson 1.489
1. Jimmy Walker .842
2. Jason Day .740
3. Russell Henley .645
4. Jordan Spieth .621
5. Daniel Dummerhays .612
1. Henrik Stenson
2. Will Wilcox WILL WILCOX HAS WITHDRAWN
2. Jim Herman
3. Justin Rose
4. Paul Casey
5. Hideki Matsuyama
1. Jason Day 27.13%
2. Jordan Spieth 26.14%
3. Bubba Watson 25.30%
4. Justin Rose 25.00%
5. Dustin Johnson 24.72%
1. Bubba Watson 4.44
2. Justin Thomas 4.45
3. Webb Simpson 4.49
4. Brooks Koepka 4.50
5. Justin Rose 4.52
1. Jerry Kelly 65.98%
2. Steven Bowditch 65.73%
3. Jason Day 65.52%
4. Jordan Spieth 65.32%
5. Brandt Snedeker 65.05%
While keeping those stats in mind, these are the guys the experts like this week…
***** EXPERT CONSENSUS *****
Highly Touted
Brooks Koepka
Henrik Stenson
Jason Day
Robert Streb
Rory McIlroy
Recommended
Bubba Watson
Chesson Hadley
Jason Bohn
Jordan Spieth
Justin Thomas
Tony Finau
Will Wilcox WILL WILCOX HAS WITHDRAWN

Suggested
Chris Kirk
Danny Lee
Hideki Matsuyama
Jim Furyk
Justin Rose
Phil Mickelson
Very little mention of Dustin Johnson.  Interesting…  I was hoping people would be off Koepka this week, but it seems like everyone else had the same idea.  Almost every article I read talked about Brooks missing the cut last week and his ownership potentially being down, but he tied for most expert mentions on the week (roughly 60% of all expert articles recommends Koepka).  Similarly, everyone is on Rory as a "sneaky" play that isn't really sneaky.  He was also mentioned in about 60% of all articles.  For comparison's sake, Dustin Johnson's name came up in less than 17% of articles.  That seems like a great risk to take.  DJ just missed the cut in my write-up, but I plan on giving him more attention now that I've seen which way the industry is going.  And Chesson Hadley?  That kind of came out of nowhere.
I'm going to start working on some pivots and punts for you guys now.  It should be up either later today or tomorrow afternoon.  Remember, we've got an extra day to play with.
oreo