Here's how you probably think about Week 8....
Worst. Week. Of. 2016. For. Me. Not just the Value Index, but in how my lineups performed. It was like watching JaMarcus Russell try to play quarterback.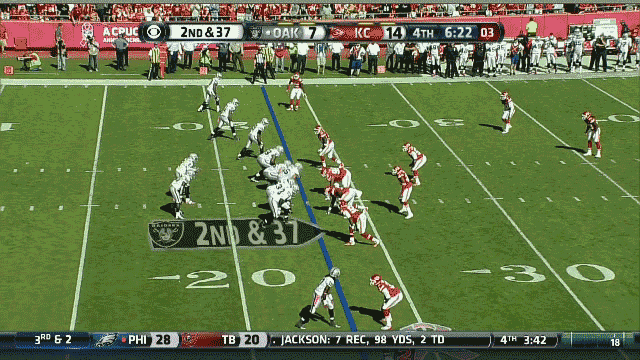 Two weeks of futility means that something has to give, right? Derek Carr did it in Week 8 (after two dud weeks in a row), and set a Raiders passing record along with putting his name in the elite of the elite for total passing yards in a single game. He also helped a DFS'er from a competitor win $1,000,000. Congrats to him. I've heard nothing but compliments about how great of a guy he is, and I am glad that kind of money went to a good person. So some thoughts once again on the previous week.
T.Y. HIlton, Mike Evans, Brandon Marshall and Julio Jones combined for...well, not a lot of production, and  3 out of the 4 make great bounce back candidates (I don't think TY's hammy is healthy).
The Browns broke their streak of futility for finally allowing less than 2 TD passes in a game.
But the Browns let Matt Forte ball out, or go ham, or whatever you want to call it. Yea, lots of fantasy goodness there.
Ezekiel Elliott gets the Browns in Week 9.
Tom Brady and Gronk continue to love playing in Buffalo, Gronk's hometown, continuing that narrative for next year.
Jimmy Graham did not live up to his narrative storyline against his old team.
Neither did Christine Michael. Well, he didn't have a storyline, he just didn't provide much production.
Melvin Gordon had another productive outing, but against another team that gives up gobs of yards to running backs.
Melvin Gordon gets his toughest test to date against the Titans who allow 82.5 yards per game and have given up only 3 rushing TDs.
Mike Gillislee! We all meant to play him in Week 8 instead of Week 7, right?
We can dwell in the past or we can look ahead to our future, and I choose the latter. Week 9 will be here soon and it's time to regroup, rebuild and reclaim (sorry, i kind of stole part of that saying from
Seth Rollins
). Before I get into my picks, there are a few things you need to keep in mind this week. Injury news is going to be important this week, moreso than Weeks 7 and 8 even though injury situations really derailed many lineups. But this week is a lot different. Because there is so much up in the air, I won't be recommending the following players: TY Hilton, Matt Asiata, Jerrick McKinnon, Spencer Ware, Ben Roethlisberger, James Starks, Ty Montgomery, Randall Cobb, Steve Smith, Corey Coleman and Sammie Coates. If any of these plays are playing or ruled out, it will have an immediate impact on the distribution of touches on their team. For example, I love Ty Montgomery this week, but only if he's healthy, and if James Starks doesn't return early. I love Randall Cobb, but would love Davante Adams if Cobb is ruled out. Asiata and McKinnon aren't really players I like to roster, but if McKinnon is out, that makes Asiata very playable. Spencer Ware had a concussion. I don't like concussions and will not be recommending him either. All in all, some of the plays above could be really great plays when Week 9 is over, I am just not going to recommend them here due to the volatility of injuries. I am tired of the Mike Gillislee's and Shady McCoy's of the world in 2016. BUT (yes, there is a but!) I will have a couple of leverage plays below that i like based on injury news that I am willing to take a shot on. If you haven't yet, please review our premium content package and
mull over joining us!
 I had a bad week in Week 8, but still hold
second place spot overall.
Definitely worth you joining to gain access to the rest of this week's picks.
Dak Prescott - QB - Cowboys - vs. Cleveland Browns - $6,100
Analysis: 
My Cowboys are rolling! Six straight wins and part of that success can be attributed to this man right here - Dak Prescott. I know Ryan Fitzpatrick couldn't continue the two-touchdown-or-more streak the Browns' defense gave up to QBs, but Prescott is far superior to Fitzpatrick and has a better supporting cast. Joe Haden may help ease some of the defensive leakiness, but he's not the Joe Haden of old. Dak is the starter against the Browns and I am hoping people aren't on Dak due to the blowout factor and/or because they think Romo comes back, or because he's now up to $6,100. Whatever the case may be, Dak has Dez back and Zeke continues to thrive behind one of the best OLs in the league. Dak also has rushing TD upside  and is certainly cash game safe with his consistency. The Browns allow 277 yards passing per game through the air as well, so don't be afraid to fire up Dak with Dez stacks this week.