The 2016 NFL season is here!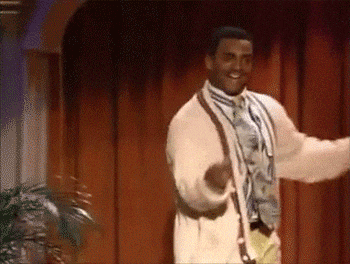 I could go on and on with all the happy .gifs, but they are perfect descriptors of how we all feel about football being in full force this weekend.
It's too damn bad DFS college football kicked the bucket after last year, but perhaps that will allow more time for NFL research?
Last season, I did a series called "What Happened in Vegas?" I thought it was successful, but it took a lot of time and for it to be great instead of OK, it needs even more time and attention to detail. With an infant and a full-time gig this go around, that is not anywhere able to be on my radar, unfortunately.
But in its place, we've decided to run a weekly value picks column using DraftKings pricing that will be inserted into our Expert Grading system. We are calling it the DailyOverlay Value Index.
It is in our interest to provide content you may not see as much elsewhere that is valuable to your fantasy lineup construction. That is also why we are going to be running something I am extremely excited about and that is a weekly podcast that will breakdown our Expert Consensus each week. I will run the ship while Matt Butler (and sometimes Brad Richter) will join me in the discussion.
We will discuss each player, who is over-touted and undervalued, our favorite cash and GPP plays from the list, recap prior week's results and identify those we might be shocked aren't on the Consensus list.
Again, this will be new territory for us, but i vow to make it a solid weekly product for you to enjoy. Be sure to lookout for that at the end of every week (Fridays or Saturdays based on our schedules).
Alright, the housekeeping is complete, so it's time to get down to the picks.
Like myself and many of us, you are probably entering the huge 1.9 million entry, $3 Millionaire Maker contest on DraftKings. I am interested to see if that thing even fills, but it truly is a dart throw with all of the entries. I'll be shocked if there's not same lineups that win the top prize.
So reviewing DraftKings pricing to start the season, it is definitely not as soft as last year, which I find to be really awesome. The top guys are about where they are supposed to be, but most are priced accordingly, so I thought it was difficult to find rock solid value guys this week as the cheaper players are mostly GPP plays, in my book because there are a lot of unknowns to their usage to start the season.
Let's talk about value for a second. Value doesn't mean inexpensive. I think that's a misconception sometimes in DFS. But value is finding the best discount for your money. The most bang for your buck, to insert a cliche. A successful value play, to me, is anyone who scores three times their price. For example, Jordy Nelson is priced at $7,700. Now his price for upside is certainly cheaper, but we don't exactly how he's going to look or hold up in his first game back from a devastating injury. However, should Nelson score three times his value, that's 23.1 fantasy points. That is a really good output to start the season. Sure 30s and 40s would be nice, but you would take that all day, every day.
Anyway, I believe many of the top players are priced about where they should be to start the season, but there are a few guys out there I will have my eye on that I feel will earn the points for the money spent.
Dak Prescott – QB – Cowboys – vs. New York Giants – DraftKings – $5,000
Analysis: The Tony Romo era might be coming to an abrupt end in Dallas. In the time given, Dak was nearly flawless in the preseason, but if you are like me, how well does preseason success translate in the regular season? The stats don't, but the cool, collective manner in the pocket just might along with all the accurate passes he threw. He's young, but tons of upside and I love his 3rd round selection back in May. I just didn't think it would be this soon we would be seeing the future of the Dallas Cowboys. It's almost a certainty that Dak's price jumps into the $6-$7k range for Week 2, so this is the perfect time to pounce on him while he's cheap. The Giants and Cowboys always put on a show, and while you might expect Zeke to be the guy to own for the Cowboys, don't sleep on Dak. Can he get you 15 points? Definitely. If the Cowboys get ahead, it will be because of Dak, Dez and Zeke. If they are behind, Dak has the arm and ability to throw the ball wherever he wants. Playing from behind only benefits Dak and the Cowboys don't really have anyone behind him to play should he struggle (no, Mark Sanchez won't see the field unless Dak gets hurt). Dez also has extra motivation to play big having sat out much of last season and he will be fired up to stick it to the Giants and help Dak along.
Spencer Ware – RB – Chiefs – vs. San Diego Chargers – DraftKings – $4,400
Analysis: I promise most analysis won't be as long as Dak's. Spencer Ware's won't be because all you need to know is that he's the go-to running back in pretty much all situations this week, even if Jamaal Charles suits up. The Chiefs won't want to rush back Jamaal and they have a cupcake at home to start the season. The Chargers are without Eric Weddle, and were one of the worst defenses against the run a year ago. Sure, they have new personnel, but a workhorse with a lead at $4,400 is too enticing to pass up.
Amari Cooper – WR – Raiders – vs. New Orleans Saints – DraftKings – $7,200
Analysis: For me, I think Amari Cooper is going to be in the elite class of receivers by the end of this season. he flashed that ability last season, but the Raiders had some struggles on offense. Michael Crabtree was the consistent one with loads of targets and receptions for a career year. But I think it's Amari that takes that next step. Cooper's price seemed awfully low to me considering the Raiders' opponent. This game is slated to be the highest-scoring game (51-point O/U, Saints favored by 1). I expect the Saints to play well at home, but I expect the Raiders to throw a lot to play catch up at times. Cooper should be able to get behind this defense plenty, but can David Carr and the offensive line get him the ball in time and enough? Many might believe he's overpriced and Crabtree under, but if this game's a shootout as projected, then I think Cooper stands to benefit mightily.
Corey Coleman – WR – Browns – vs. Philadelphia Eagles – DraftKings – $5,100
Analysis: Until Josh Gordon arrives, Corey Coleman should eat, and eat a ton. I don't expect the Eagles to be very good this season with a rookie QB that is coming off a preseason injury along with a defense that has a new DC in Jim Schwartz, so it might take a few weeks for things to get better for Philly defensively as they adapt to a new system. The secondary also should have its fair share of struggles with a lack of talent on the roster. Schwartz is known for his aggressive-defensive style, but with the Lions as head coach, it's not like they were world beaters defensively. I am not convinced this unit is going to be spectacular, especially in the beginning and RG III should be looking toward the super-talented rookie from Baylor by the dozens without Gordon around. Take him while he's still cheap.
Tajae Sharpe – WR – Titans – vs. Minnesota Vikings – DraftKings – $3,000
Analysis: So who in the hell is Marcus Mariota going to throw to in 2016? They have DeMarco Murray and rookie Derrick Henry at RB, but they shipped Dorial Green-Beckham to Philly before the preseason started. That leaves us with Rishard Mathews and UMASS rookie Tajae Sharpe as the top 2 wideouts for Tennessee. This week's matchup is tough against the Vikings, but I expect their to be a fair share of playing catch up for the Titans. And if they are leading late in the game with TDs on the board, then I feel Murray and Henry aren't going to be huge factors in those scores facing a very good Vikings run defense. Sharpe was one of the top wideouts in college football last year despite playing for lowly D-1 UMASS. A No. 1 or No. 2 wideout at $3,000 in a game where his team likely plays from behind a lot? Sign me up.
Dwayne Allen – TE – Colts – vs. Detroit Lions – DraftKings – $3,200
Analysis: At first I had Jason Witten in this spot. While I do like the potential for him to be Dak's safety valve, I like Dwayne Allen more now that he is the lone TE in Indy. The mouths are there to feed with Hilton, Moncrief and Dorsett, but it's Allen who should be one of the main red zone targets. The Lions were dreadful against TE's last season, nearing the bottom of the league in fantasy points allowed. Allen may not record 6-7 catches like Gronk, but I think there's ample chance for him to snag a red zone score or two plus 3 or 4 catches. The Colts didn't bring anyone to challenge him for another timeshare, so it's time for Allen to showcase what he's got at the bargain bin price of $3,200.