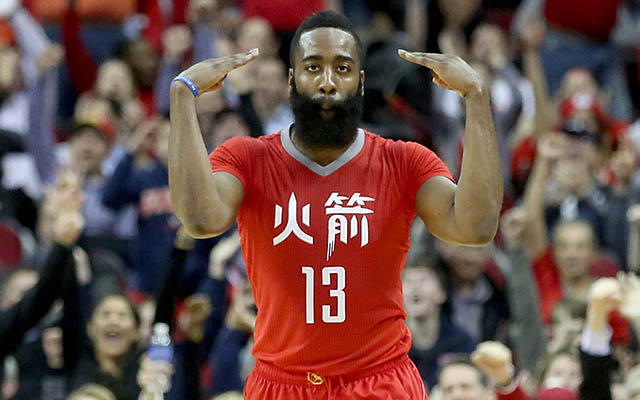 *** I'm using DraftKings' pricing, so the picks will be geared towards that site.  But assuming there isn't a major difference in salary, these plays can be used anywhere.  And as always, make sure to check for the latest injury news and lineup changes. ***
STARS OF THE NIGHT
SG James Harden $10,000
He scored 80 FP last time out.  Eighty.  Granted, that was due in part to all the extra possessions created by hacking Drummond in the second half, but still.  Conditions might not be as good as Wednesday, but they're still pretty great.  Dwight is out (more opportunity) and the Bucks have a bottom five defense.  He'd be my pick for top scorer on the night.
PG Stephen Curry $10,400
In his previous match-up with the Pacers, Curry went for 60 FP.  Indiana plays at the sixth fastest pace in the league, and more possessions = more fantasy points.  Tonight will be Steve Kerr's first game back on the bench, and you can bet the Warriors want to put on a show.  I like him slightly more than Westbrook, but you can't go wrong with either.
PG Russell Westbrook $10,600
Speaking of Russ… he should be in full-on terminator mode tonight.  We're a little over a week removed from Westbrook being tossed after getting choked by Charlie V and Barea getting under his skin.  He's going to be looking to melt faces, and with a spread of only OKC -5.5, the oddsmakers think it should stay relatively close (which means full minutes for everyone).
C Pau Gasol $8,400
Targeting bigs against the Celtics is one of my favorite moves, so I'm going to be on the Gasol train tonight.  He's gone for 50+ in three of his last nine, and that's the kind of upside we're looking for.  Jimmy Butler is a little under the weather and Boston is fantastic against opposing PGs, so look for Pau to shoulder a little more of the offensive load.
TOP VALUE PLAYS
C Myles Turner $3,900
Ian Mahinmi has been ruled out, and Turner has been playing very well of late.  He's trending towards a larger role and more minutes.  Myles has averaged 30 minutes and 35 FP over his last two… do you like 9x value?  I like 9x value.  The Warriors are favored by 12.5 in this one, but that shouldn't be of much concern for our purposes (and it might even be a good thing).  Turner is young and they're just looking to get him some experience.  They won't sit him if it gets out of hand down the stretch.  It's going to be an extremely fast paced game and Turner is locked into 30 minutes (barring foul trouble); he's the most obvious value play on the board.
SG Josh Richardson $3,000
Let's run through Miami's healthy guys who are even remotely capable of handling minutes at the 1, 2 or 3: Tyler Johnson, Gerald Green (hobbled), Justise Winslow, and Josh Richardson.  Maybe Jarnell Stokes, but he's really a 4.  Pencil Johnson, Green, and Winslow in for 36 minutes each, and that still leaves 36 minutes out there for the taking.  Even if Stokes gobbles up 10 of them, that's still 24 minutes for Richardson.  And that's the absolute floor.  You're honestly probably looking at 30+ minutes for him.  It's tough to see 30 minutes of action and not walk into 20 FP.  Despite lackluster FP/min numbers so far this season, I expect him to clear 25 FP given the usage black hole left by injuries to Wade, Deng, and Whiteside.  He was actually a pretty good player at Tennesse; definitely not a scrub.
PF Amar'e Stoudemire $3,000
Miami's frontcourt isn't in as bad of shape as its backcourt, but it's still not great.  Whiteside, Deng, and Andersen are out, leaving Miami with only Chris Bosh, Amar'e Stoudemire, Udonis Haslem, and Jarnell Stokes.  I think Miami probably plays Bosh around 35 minutes, Amar'e 26, and splits the rest between Haslem and Stokes.  We all know Stoudemire's best days are behind him, but at minimum pricing, 26 minutes should be enough to more than pay off his salary.
PF Terrence Jones $4,700
With Howard out and Harrell questionable, there are plenty of frontcourt minutes out there to be had in a prime match-up with Milwaukee.  Jones is a very good player (nearly .9 FP/min) and should be able to capitalize on this opportunity.  At a projection of 30 minutes, he should pay off his salary more often than not.
Good luck tongiht!
oreo